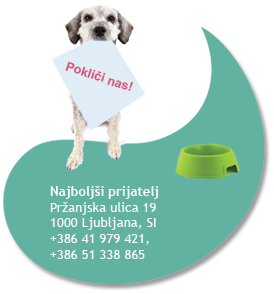 Dog sitting in our home
The dogs we look after live with us in our beautiful and spacious home on the outskirts of Ljubljana. They can play as often as they like in our gorgeous garden and, in addition, we take them for 30-minute walks three times daily in the fields adjacent to our house. Because we understand that each dog is unique, we're happy to arrange for your dog to share communal spaces or to have their own individual room.
Cat sitting in our home
The cats we look after enjoy the peace and quiet of their own cozy room carrefully separated from the dogs.
Dog walking in Ljubljana Šiška and surrounding area
We're happy to walk your dog in the area where you live or, alternatively, we can take it to a spacious location near us for a nice walk. All our dog walking services are tailor made to meet your dog's requirements and abilities.
Taking care of dogs, cats and other pats
in your home in Ljubljana Šiška
Our services include daily or occasional dog walking, puppy care, care of older dogs, home visits for cats and small pets.
Dog bathing and grooming
for dogs used to living outdoors
Purchase and delivery of quality dog food
Tips and advices
to dog owners on matters of dog behavior, better quality care and better synergy with your pet
Our reqirements for dogs and cats:
• vaccination certificate
• active protection against fleas and ticks
• regular protection against worms and tapeworms
   (4 times per year)
• we reserve the right to decline bookings for dogs whose
   behaviour has previously caused us serious problems or who
   have adversely affected the general dynamic of the pack
   made up of the dogs in our care